Slide 1
MindBridge
financial risk discovery platform
MindBridge, the world's leading AI powered financial risk discovery platform just got upgraded. Four new products bring users targeted insights into their financial, operational, and transactional risk in Payroll, Company Card, Vendor Invoice, and Revenue Risk data.
Slide 1
The
in financial risk identification and anomaly detection
We help finance professionals automate analysis of every transaction and focus on unusual activity.
Slide 1
MindBridge, the world's leading AI powered financial risk discovery platform and KPMG, a global leader in audit, tax, and advisory services have formed a strategic alliance with the aim of further enhancing digital audit.
MindBridge and KPMG are transforming audits with artificial intelligence and anomaly detection
MindBridge AI recognized in the 2023 Gartner® Hype Cycle™ for Emerging Technologies in Finance
Trusted by businesses and professionals
KPMG
Align
Polaris
UI Path
Intel
MNP
Crowe
Grant Thornton
Feature
Why identifying unusual financial transactions
With changing economic factors and the increased need to identify risk earlier, advanced financial oversight helps strengthen controls and improve decision making.
Assess control environment
MindBridge's detective controls identify anomalies regardless of your control environment and will uncover risk that would otherwise be undetected.
Risk-driven prioritization
Improve your business risk culture with leading anomaly detection technology. MindBridge helps financial professionals avoid compliance and reputation failures through greater transparency of risk.
MindBridge searches for unusual activity across 100% of your general ledger as well as other large financial data repositories, laying the foundation for a stronger approach to risk mitigation.
MindBridge provides insights for forward thinking discussions that support your professional judgment. Inform key stakeholders while ensuring ownership and delegation of top risks.
Slide
By accountants, for accountants
Accounting is the beating heart of MindBridge. We have "Most Powerful" CPA honorees, internal audit consultants, and experienced governmental auditors along with other accounting professionals ensuring our tools don't require advanced analytics skills to realize value – MindBridge is familiar to all accountants and easy to use.
Control groups and risk scores
Control groups and risk scores
Behind-the-scenes, MindBridge is an incredibly sophisticated mix of machine learning, rules-based analytics, and statistical methods. This ensures anomalous transactions lurking within your financial systems can be detected and investigated quickly and efficiently. We handle the data science and empower your teams with results.
Scalable cloud infrastructure
Scalable cloud infrastructure
MindBridge has analyzed over fifty-five billion (with a B!) financial transactions and counting. MindBridge can ingest, store, analyze, and report on gigantic data sets from hundreds of different ERPs. MindBridge accelerates your digital transformation with scalable analytics.
Industry-certified transparency
Industry-certified technology
MindBridge continues to lead the way in external validation of AI technology. MindBridge completed the world-first algorithm audit from Holistic AI certifying our algorithms as unbiased, safe, and explainable. MindBridge holds multiple ISO certifications, and SOC2 Type 2 accreditation which includes all 5 Trust Service Criteria, so, you can have confidence your data is safe, secure, and appropriately managed.
Built to enable
your

team
Our on-boarding process moves you from the initial startup stages to company-wide adoption. MindBridge can deliver powerful results out-of-the-box and offers extensive reconfigurability for organizations that need it.
Slide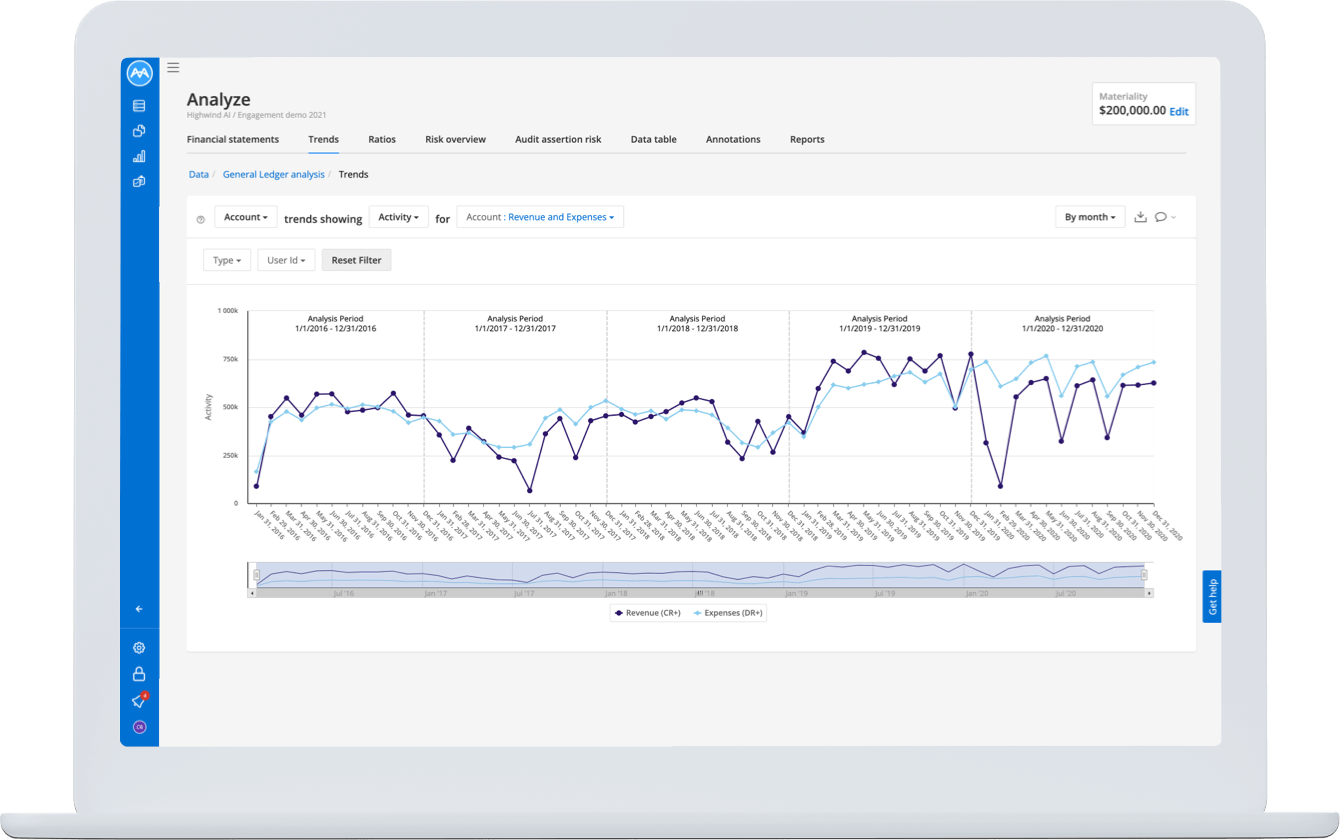 Create custom risk scores and segments to allow you to visualize and explore what matters most to you.
Compare risks between periods and view transaction structures that make up your business processes.
Leverage prior year data to identify when current year balances fall outside of expectation.
Discover why the world's top finance professionals choose MindBridge.
Find out how MindBridge can empower your team

Tom, our Senior Manager of Business Strategy and Operations, will get in touch to match you with a MindBridge team member shortly.